By WCVB 5 ABC
Updated: 4:53 PM EDT Jun 5, 2023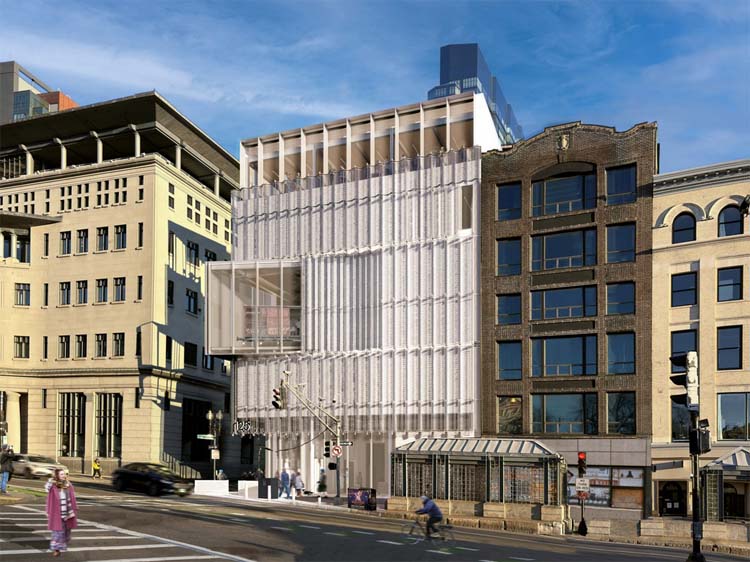 BOSTON — A new museum to be built near Boston Common and along the Freedom Trail is intended to preserve the memory and lessons of the Holocaust for future generations.
Holocaust Legacy Foundation announced Monday that it had submitted plans for the museum, created by Boston architecture firm Schwartz/Silver Architects Inc., to the city's Planning and Development Agency. Included renderings show features of a six-floor, 33,000-square-foot building that will be located along Tremont Street.
On the exterior, the design features an undulating stainless-steel woven metal fabric meant to evoke the curtains drawn in Jewish households as the Nazis rose to power and the fences that surrounded the death camps. Jutting out on one side will be a bay window surrounding a railcar that was used for deporting Jews to the camps.
"From The Freedom Trail, people may see museum visitors filing into the railcar but not exiting, illustrating the reality of millions of people who were transported to their deaths in such cars," the foundation said in a summary of the plans.
"The Holocaust museum will emphasize the importance of embracing diversity and respecting human rights," said foundation co-founder Jody Kipnis. "Through the exhibitions, educational programs, and outreach initiatives, we intend to foster an understanding of the value of inclusivity, tolerance, and equality. By emphasizing the shared humanity of all people and the importance of safeguarding the rights of minority groups, we will encourage visitors to reject antisemitic beliefs and promote a more inclusive society."
The museum is scheduled to open in early 2026.