By Amy Sokolow and Vanessa Ochavillo
June 06, 2023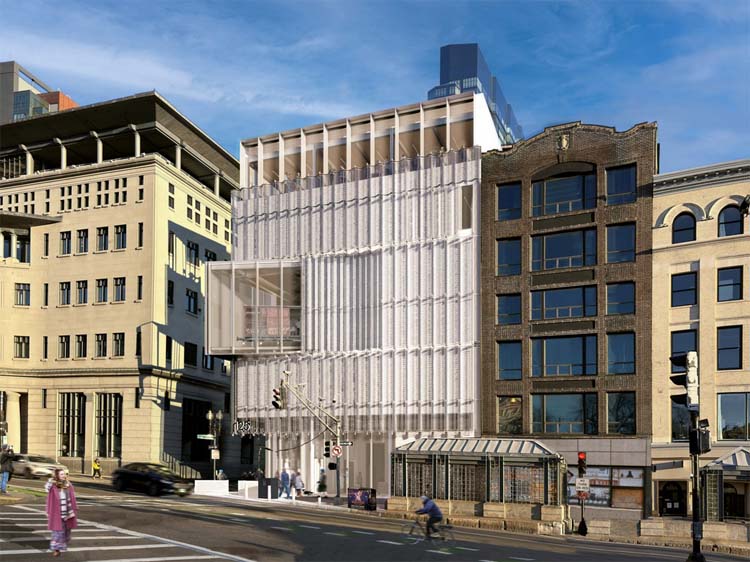 Architectural rendering of the Holocaust Museum and Educational Center in its planned location on Tremont Street in Boston. (Courtesy of the Holocaust Legacy Foundation)
This week, the public got to see what the planned Holocaust Museum and Education Center in Boston will look like. And it's striking.
Imagine looking up from Boston Common, along the Freedom Trail, to see a six-story building. You notice two things: metal wrapped all around the middle of the building, and a rail car peeking out from behind huge glass windows.
Jody Kipnis, co-founder of the Holocaust Legacy Foundation, which is creating the museum, said the design team put a lot of thought into how they could leverage visuals to convey what life was like for the Jews who lived through the Nazi Party's rise to power.
"By engaging with the history and the consequences of the Holocaust, individuals can play a role in ensuring that such atrocities are never repeated," Kipnis said.
The metal fabric is meant to represent the curtains that stayed drawn in Jewish households when the Nazis rose to power. They could also evoke the fences around the deaths camps where Jews were held prisoner, according to an announcement on Monday, when the foundation submitted the architectural renderings to the Boston Planning and Development Agency.
The Boston architecture firm Schwartz/Silver Architects Inc. is designing the museum.
The railcar in the plan is not a replica but an authentic acquisition from the part of Europe that in the 1940s was Macedonia. An ongoing historical assessment has so far determined that the railcar transported Jews to death camps. From the outside, passersby on the Freedom Trail will be able to look up and see museum visitors getting into the railcar, but not getting off in a visual illusion meant to illustrate the fate of millions of Jews.
Kipnis said she hopes the space will help museum visitors internalize the lessons the Holocaust has to teach.
"Our goal is that they then bring it forward when they leave and ask themselves, 'Why am I here? What does this have to do with me in my life today?' And when we think about today, we also have to think about five years down the line, like, what is that today going to look like to them? And then five years down the line after that?," she said.
The museum will comprise mostly of permanent exhibits, many of which will be interactive and immersive. One in particular that Kipnis highlighted features a hologram of a Holocaust survivor, with whom visitors can have a real-time conversation.
There will also be temporary exhibits that Kipnis imagines will highlight other genocides and current events.
The museum is set to open in April 2026.