by Shelley A. Sackett
May 16, 2019

Holocaust Legacy Fellow Teens with David Schaecter, Auschwitz survivor.
In April 2018, Jody Kipnis and Todd Ruderman visited Auschwitz with their dear friend David Schaecter, a 90-year-old survivor who spent over two years of his youth in this indescribable death camp. "While standing in front of David's bunker, he turned to us and said, 'Hear me, understand me, and let me tell my story,'" Kipnis said. By the end of their trip, she and Ruderman began to understand what their friend was asking.
"The imminent passing of survivors will occur during your and our children's lifetimes," Ruderman explained, noting the alarming results of a survey conducted by The Conference on Jewish Material Claims Against Germany that showed the Holocaust is fading from global memory. "While no one alone can change this disturbing trend, by the conclusion of our visit, Jody and I committed ourselves to do what we could to assure this does not happen."
The two made a pledge while standing in the Auschwitz concentration and extermination camp in Poland on Yom HaShoah in April 2018. "We promised each other that the words 'never again' would no longer be a call to prayer, but a call to action," Kipnis said.
When they returned home, they conceived of Holocaust Legacy Fellows (HLF), whose mission is preserving and perpetuating the memory and lessons of the Holocaust for future generations by inviting teens throughout Greater Boston to meet survivors, learn about the Holocaust and make the trip to the places that forever changed Kipnis and Ruderman's lives. Kipnis and Ruderman are its co-directors and funders.
By coincidence, Kipnis's daughter, Gann Academy student Gillian Pergament, was on the 2018 Y2I trip and told Lappin Foundation Executive Director Deborah Coltin about the Holocaust travel program her mom and Ruderman were interested in starting. "I said I would love to know more and asked her to tell her mom," Coltin said. She and Kipnis connected within days of her returning from the Y2I trip and, together with Ruderman, their ideas came to fruition.
"Debbie is an expert on teen travel and engagement. With her help, we pulled this together in just three months," Kipnis said. She and Ruderman also enlisted the assistance of the Lappin Foundation (which has run the Youth to Israel program since 1971) to administer and implement HLF, and hired Coltin as education and program development consultant.
Kipnis said HLF is in the process of becoming its own stand-alone non-profit organization.
Eligible teens for the 2018-2019 HLF pilot year needed to be juniors in high school; have participated in an organized Israel experience; be able to attend all pre- and post-trip meetings; agree to complete all homework assignments; and not have previously participated in an organized Holocaust educational trip to Poland.
As HLF Educator, Coltin, who has three decades experience teaching the Holocaust, created the curriculum, and will be one of the staff on the fully subsidized August 4-13, 2019 Poland and Berlin trip. She plans all meeting lessons, teaches the classes, and schedules survivors to speak to the teen Fellows.
"The curriculum reflects the human face of the Holocaust. The Fellows meet survivors in person, the last generation to do so. They bear witness to the Holocaust by hearing the survivors' testimonies about their lives before, during and after the Holocaust, and what the enormous price in particular Jewish people paid for such hatred that went unchecked," said Coltin.
The 16 inaugural Fellows represent Lynnfield, Middleton, Newburyport, Beverly, Arling­ton, Marblehead, Newton, Needham, Framingham and Swampscott. "I wanted the participants to be from 'Greater Boston,' not just one area. These kids have a responsibility to preserve and perpetuate the lessons of the Holocaust for future generations. How else will we get the word out?" Kipnis said.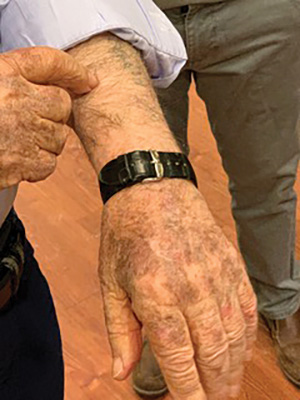 David Schaecter shows his tattooed number from Auschwitz.
After attending an orientation and hearing survivor Schaecter speak last October, nominated teens wrote a paragraph describing why they wanted to be a Fellow. "In the aftermath of the Pittsburgh shooting, it is more important than ever that we continue discussing the Holocaust. I want to be part of the movement that ensures that nothing even close to it ever happens again," wrote Dina Zeldin, a junior at Newton South High School.
"I hope to gain a new level of knowledge about the Holocaust and use that in my community, my country and someday even the world. I want to bring a sense of hope in such a dark trip," Max Foltz, a junior at Newburyport High School, wrote.
For Coltin, the HLF trip will be her first time traveling to Poland and Berlin. While she admits that going to these sites so deeply connected to the Final Solution is "way out of my comfort zone," she is thankful for the opportunity to open up and learn more.
"The Holocaust journey should be personal. We will be learning our history, our story. Knowing who we are as Jews puts us in the best possible position to support and promote the mission of Holocaust Legacy Fellows," she said.
"Jody and Todd had a phenomenal idea and they followed through. Our community is truly blessed," she added.