Alan Chak
Middleton, MA
Masconomet Regional High School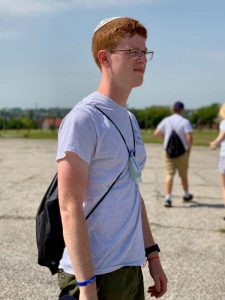 The ability to reason is the one and only characteristic that separates us from any other form of life on the planet. Reason is what gives us our humanity and without it, we're no different than any other animal. The Holocaust serves as an example to the world, how easy it is for humans to lose their ability to reason and ultimately, lose their humanity. This makes it an immensely important topic to learn about for all people, not just Jews. It's not only our mission, but it's our duty to preserve the lessons of the Holocaust in order to stop anti-Semitism and to prevent history from repeating itself.
Throughout our nine day journey, one lesson kept re-occurring to me as we toured museums and camps: To never forget. I couldn't believe what I saw in Madjanek when walking through the gas chambers, just to see the ashes of 18,400 people. I was devastated and my blood was boiling. I couldn't fathom as to how a human being thought, "What I am doing is okay." And still after our journey, I was left without any reasonable explanation as to how this was possible. The Holocaust truly was a different planet. Despite the Holocaust being so vile and soul crushing, the world already seems to be forgetting. A staggering thirty- one percent of Americans are unaware that the Holocaust actually happened and anti-Semitism has risen by over thirty-seven percent since 2017. The heartless purge of our ancestors and loved ones is beingforgotten not even one hundred years after it happened. From multiple shootings by armed gun men in our synagogues, to finding the Nazi Swastika drawn on the bathroom walls at my own high school, Jews once again feel unsafe and scared to practice their religion not only in Europe, but in a country that prides it self on having the freedom of religion.
The impact that this journey has given me is forever lasting. After seeing firsthand the horrors of the Holocaust, I am more than prepared to do my part in our mission. From presenting our projects in our communities to attending protests against anti-Semitism, this trip has prepared me for the fight to stop anti-Semitism, as this is just the beginning.